A Remodeled Home on Famous Duck Lane
1008 Kainui Drive, Kailua, HI 96734
This home was totally remodeled in 2006 from top to bottom. <br /> The next best thing to new construction, this lovely home features a new kitchen with granite counters and stainless appliances, new tile flooring througout, new bathrooms, a new roof, new carpeting, upgraded electric, fresh paint, new interior walls, and new light fixtures. Surrounded by lush, tropical landscaping. French doors open out to the spacious new back deck. A new front fence gives extra privacy. Great location on famous &quot;Duck Lane&quot; and a short walk to Kailua Beach. Easy access to the H-3 Freeway, downtown Honolulu, and Kailua Town.
Price: $995,000
MLS Number: 2613429
Year Built:
Bedrooms: 4
Bathrooms: 2
Living Area: 1,688 Square Feet
Lot Size: 9,040 Square Ft.
Building Type: Single Family Home
Sold!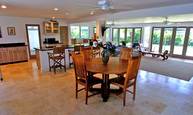 A Remodeled Home on Famous Duck Lane
1008 Kainui Drive
Kailua, HI