Represented Buyer
913 Akumu Street, Kailua, HI 96734
An immaculate, private oasis awaits you in Kailua's Enchanted Lake neighborhood. Spa amenities accompany the salt water pool in the fully fenced back yard. Tradewinds cool the free flowing floor plan where tranquility abounds. RELAX and Welcome Home!!
Price: $745,000
MLS Number: 2908603
Year Built:
Bedrooms: 4
Bathrooms: 2
Living Area: 1,676 Square Feet
Lot Size: 7,411 Square Feet
Building Type: Single Family Home
Sold!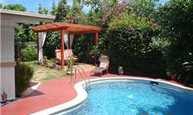 Represented Buyer
913 Akumu Street
Kailua, HI